Personal Records
1 mile - 7:20 - October 11, 2008 - St Clement Long Stride - Jamaica, NY
5k - 25:35 - June 1, 2008 - FPYC 25 Furlongs (5k) Race - Floral Park, NY
4 miles - 33:32 - December 3, 2006 - Fly With the Owls 4 mile Run - Lynbrook, NY
5 miles - 42:50 - Apr 27, 2008 - Alley Pond 5 Mile Challenge - Alley Pond Park, Queens, NY
10k - 55:11 - May 19, 2007 - Healthy Kidney 10k - Central Park, NY
15k - 1:39.28 - March 11, 2007 - Colon Cancer Challenge 15k - Central Park, NY
10 miles - 1:38.28 - May 25, 2008 - Long Beach Trophy Run 10M - Long Beach, NY
Half Marathon - 2:05.48 - July 27, 2008 - NYC Half Marathon - New York, NY
2009 Races
Feb 21 - GLIRC 3 x 2 Trail Relay - 17:20 for my 2 mile leg
Mar 1 - Coogan's Salsa, Blues & Shamrocks 5k - 26:29
Mar 15 - John Corrigan 4 x 2 Relay - 16:21 for my 2 mile leg
Apr 11 - Scotland Homecoming 10k - 56:37
Apr 26 - Alley Pond 5 Mile Challenge - 47:44
May 16 - Healthy Kidney 10k - 57:13
May 27 - LIRRC Summer Series 5k - 27:17 - 1st in Age
May 30 - Japan Day 4M - 35:28
June 7 - Mini 10k - 57:31
June 10 - LIRRC Summer Series 5k - 26:57 - 3rd in Age
June 24 - LIRRC Summer Series 5k - 27:18
July 1 - LIRRC Summer Series 5k - 27:30 - 1st in Age
July 4 - Oakdale Firecracker 5k - 26:28
July 5 - Massapequa Firecracker 5k - 26:42
Aug 16 - NYC Half Marathon - 2:07:58
Aug 26 - LIRRC Summer Series 5k - 27:32
Sept 12 - Ocean to Sound 50M Relay - 5th leg - 55:56
Oct 4 - P.O. Gary Farley 5k - 27:16
Oct 11 - Get to the Point 5k - 26:46
Oct 25 - Totten Trot 5k - 27:09
Nov 8 - Blazing Trails 4-Autism 4M - 36:16
Nov 15 - Mineola Mustang 5k - 27:34
Nov 22 - Great Prostate Cancer Challenge 5k - 27:29 - 3rd in Age
Nov 27 - Run Your Turkey Off 4k - 20:56 - 2nd in Age
Dec 5 - Seaford Hot Chocolate 5k - 27:15
Dec 13 - TRRC Couples Race - 1st leg - 18:21, team: 32:41
Dec 19 - Ho Ho Ho Holiday 5k - 28:11

Other things
Subscribe in a reader
Thursday, June 23, 2005
Rocky Mountain High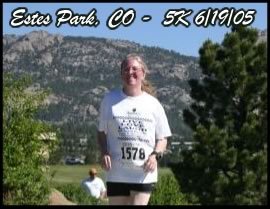 That's me up there, nearing the finish in the Optimist 5k in Estes Park, Colorado. What a race! It was unusually hot and they have an odd idea of flat in Colorado. The heat and the altitude affected all the runners and my 34:50 time was good enough to finish 7th in my age group, 21st for my gender.

Colorado was fantastic! And the Boulder area is particularly appealing. The widespread interest in sport and the outdoors is reflected in the glut of merchants selling biking, running, skiing and hiking equipment. Most roads have bike lanes and bicycles are everywhere. Mountains tower over the landscape. It was beautiful. I invested $5.00 in the state lottery and toyed with the fantasy of never going home. Childhood dreams of owning a horse ranch out West combined with adult interests in hiking and running created a strong pull to stay.


posted by DebbieJRT @ 11:33 PM

Saturday, June 04, 2005
I DID IT!!!


My first 5K race and my first race shirt!!


I finished in 32:45.2--6th in my age group. That's the fastest I have ever run, almost a minute per mile faster than I have run in my training runs. It was an amazing day. It started out rainy, but by the time the race started, the sun was coming out. Most of the course was under trees, however, which was good as I got so burned hanging around after the finish. I thought it was going to stay overcast, so I didn't wear a hat or sunscreen--lesson learned.



I was careful not to start out too fast and I found myself passing people later on in the race. That was kind of cool And my big goal was accomplished in my first race -- I did not walk even one step. Just imagine, 6 months ago I couldn't run for a minute straight and now I'm running for miles.



Now for Estes Park. I don't expect to do as well there because it's a bigger race and the altitude should affect me somewhat, but I am looking forward to seeing what I can do.
posted by DebbieJRT @ 11:17 PM